Universally Accessible Playgrounds create awareness, break down barriers and build friendships… We Play Together!
The City of Fountain Valley and the Fountain Valley Community Foundation are collaborating on the first ever Universally Accessible Playground (UAP) and recreation area in Fountain Valley! Designed to bring people together, a UAP is a sensory-rich recreational environment that enables children and adults of all abilities to develop physically, socially, and emotionally. Centrally located at the Sports Park, this playground will provide accessible and inclusive recreational amenities and is sure to become a highlighting attraction in our community.
What is a Universally Accessible Playground (UAP)?
A playground and recreation area built specifically to facilitate opportunities for all abilities, UAP's blend physical play with sensory, communicative, cognitive, and social/emotional amenities to offer an inclusive recreational environment.
Universally Accessible Playgrounds remove barriers between kids, despite any differences, and gives them the chance to play and grow together.
Why are we building a UAP at the Fountain Valley Sports Park?
Play is a universal language. When people play together we realize that we are all the same and we want and deserve the same things…Dignity, Respect and Opportunity!
It is for Everyone. Adults with disabilities can spend time with their kids or grandchildren in an inclusive and multigenerational playground.
The Fountain Valley Sports Park is a regional attraction within Mile Square Park. Centrally located and with ample parking, the FV Sports Park provides the perfect backdrop to house this sensational playground and recreational area!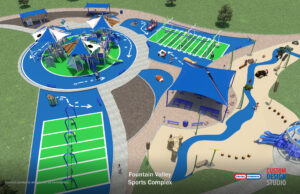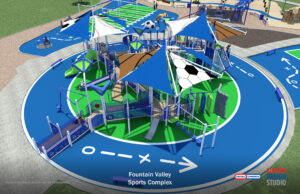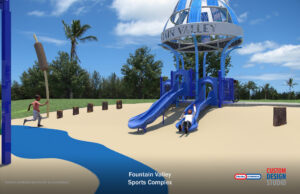 Make a Donation
It is important for us to continue supporting the causes and organizations that matter to the residents of Fountain Valley, but we can't do it without your help.
The Fountain Valley Community has committed to raising $50,000 for the construction of the UAP (Universally Accessible Playground).
The Summerfest Committee has stepped up and will match that amount. Please consider donating to this wonderful all inclusive playground. You will be the proud owner and wearer of our official tee shirt for a minimum donation of $25.When donating please specify your size
White tees are unisex ranging from small to 3X (men should probably order one size larger than normal)
Women's tees (light heather blue) are a relaxed fit. Sizes range from small to 2X
Children's white tees are available in small to XL